Forty names, games, teams and minutiae making news in men's college basketball, where it's a banner year for Owls. Florida Atlantic, Kennesaw State, Temple and Rice are a combined 67–23 and all in contention for conference titles:
Question all you believe in
One of the enduring charms of college basketball in comparison to King Football is its variety and unpredictability. Fortunes fluctuate, contenders change, new faces are always popping up. In the nine years of the College Football Playoff, only 14 schools have made the four-team field, and five have won national titles. In the past nine men's basketball tournaments, we have had eight different champions and 24 schools advance to the Final Four.
And boy howdy, is this chaotic season shaping up for more turnover at the top. As of last week's AP Top 25, half the preseason top 10 was no longer ranked at all—and that included some of the blue-bloodiest programs in the sport. Preseason No. 1 North Carolina was out, as was No. 4 Kentucky and No. 7 Duke. So were No. 9 Creighton and No. 10 Arkansas.
Now take a look at who's leading the rankings: The top four, and five of the top seven, have never won a national championship, and two of those have never even been to a Final Four. Of the three that have been there, only one has done it in the last 40 years.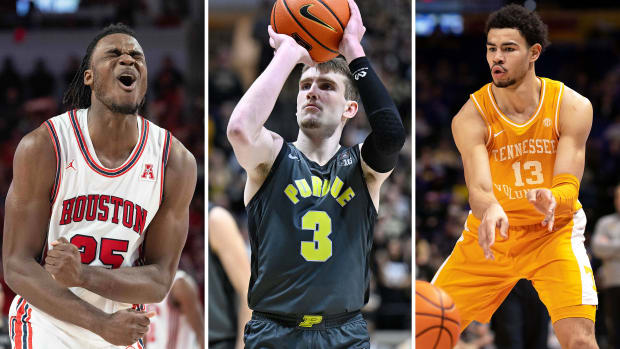 The Fresh Five:
Purdue (1). Current ranking: No. 1. Current record: 21–1. Last Final Four: 1980. Total Final Fours: two. Number of times as a No. 1 NCAA tournament seed: three. Last time: '96.
Why this year's team has a chance to make history: The Boilermakers' lone loss is by a single point to a quality opponent (Rutgers). They have the most unstoppable force in college hoops in 7'4" Zach Edey (2), who averages 21.4 points, 13 rebounds and 2.3 blocked shots per game. In Edey's last three games, he has scored 38.6% of his team's points, capped off by a career-high 38 against Michigan State on Sunday. Also of vital importance: Purdue is significantly improved defensively over last year, when Matt Painter's team had a potent and efficient offense but struggled to contain the ball and get stops.
Nagging doubt: Purdue plus postseason pressure has not equated to happiness in recent years. The Boilermakers lost to No. 15 seed Saint Peter's last year in the tournament and No. 13 North Texas the year before. There is some proving to do.
Houston (3). Current ranking: No. 3. Current record: 20–2. Last Final Four: 2021. Total Final Fours: six. Number of times as a No. 1 NCAA tournament seed: one, in 1983.
Why this year's team has a chance to make history: The Cougars play with the customary defensive zeal of a program built around that dynamic, but they also have more NBA-level talent than usual. In other words, this isn't just your typical Kelvin Sampson–coached, hard-edged bunch of maulers who win with stops and rebounds. Guard Marcus Sasser (4) is the first offensive option (16.2 points per game), but freshman forward Jarace Walker (11.1 points, 6.5 rebounds) is a lottery pick and the supporting cast runs deep.
Nagging doubt: The Cougars have wobbled a bit lately. They trailed in the second half of their last three home games against considerable underdogs (South Florida, Temple and Cincinnati) and lost to the Owls.
Tennessee (5). Current ranking: No. 2. Current record: 18–3. Last Final Four: none. Number of times as a No. 1 NCAA tournament seed: none.
Why this year's team has a chance to make history: The Volunteers are a vicious defensive team, leading the nation in that area according to the Pomeroy ratings. They are big and extremely physical, capable of both pressuring the perimeter and defending the paint. Rick Barnes's team is balanced offensively and led by its backcourt tandem of Santiago Vescovi and Zakai Zeigler, but look out for veteran big man Olivier Nkamhoua (6) coming on as a scoring threat. The senior from Finland had his best game Saturday against Texas, going off for a career-high 27 points plus eight rebounds.
Nagging doubt: Barnes has lost a lot of NCAA tourney games as a higher seed, and this team is sketchy enough offensively to raise the specter of an awful shooting night knocking it out early.
Kansas State (7). Current ranking: No. 7. Current record: 18–3. Last Final Four: 1964. Total Final Fours: four. Number of times as a No. 1 NCAA tournament seed: none.
Why this team has a chance to make history: The Wildcats are one of the great one-year makeovers the sport has ever seen, bringing in a new coach and seven new players to vault from 14 wins in 2021–22 to 18 and counting this season. The Pomeroy ratings don't love the Wildcats, ranking them 25th, but any team tied for the lead in the brutal Big 12 could be positioned to make a run. Undersized guard Markquis Nowell and Florida transfer wing Keyontae Johnson (8) might be the best two-man tandem in the college game at the moment, combining for 34.9 points, 11.2 rebounds,10.4 assists and 3.6 steals per game.
Nagging doubt: First-year head coach Jerome Tang is living right, with a 4–0 record in overtime games. Can a team that lacks significant postseason experience keep winning the close ones?
Alabama (9). Current ranking: No. 4. Current record: 18–3. Last Final Four: none. Number of times as a No. 1 NCAA tournament seed: none.
Why this team has a chance to make history: The Crimson Tide play a fast, fearless and athletic style with plenty of talent to make it work. Lanky freshman Brandon Miller (10) has moved into top-five NBA pick range and is in the running for National Player of the Year honors, averaging 19.1 points and eight rebounds. Alabama is the epitome of modern offense, thriving on threes, dunks and free throws, but don't sleep on its defense. Opponents are making just 42.9% of their two-point shots and 27.2% of their threes against the Tide.
Nagging doubt: Getting blown off the court by a bubble team (Oklahoma) on Saturday didn't inspire a lot of confidence. Will Bama be willing to buckle down when the going gets tough?
Where did these guys come from?
Outside of the Pac-12 (11), where chalk has ruled at the top of the standings with preseason favorite UCLA a half game ahead of preseason No. 2 choice Arizona, the Power 6 conference standings are littered with unexpected developments. A quick look at the league leaders and what was expected of them:
Atlantic Coast Conference (12): The leader at 10–1 is Clemson, which was picked to finish 11th preseason. In a conference filled with underwhelming and inconsistent teams, Brad Brownell's group has answered the bell with admirable regularity. The Tigers also have been blessed by good fortune, having won three league games by one point, including two of their last three. Clemson hasn't won more than a single ACC tournament game in 15 years, and has played in only two NCAA tourneys in the last 11 seasons, so there is a lot of wait-and-see attached to this team.
Big 12 (13). The three teams tied at the top entering Monday's games at 6–2 were picked third (Texas), eighth (Iowa State) and last (Kansas State). Preseason 1–2 choices Baylor and Kansas are just a game behind at 5–3. Everyone is highly likely to lose multiple times in February in a league where there are no easy games.
Big East (14). There is a three-way tie for first at 9–2 here among teams picked to finish ninth (Marquette), fifth (Providence) and second (Xavier). The Golden Eagles are 17–5 overall, with those five losses by a total of 20 points. They stumbled through February last year but have a schedule that could deliver them their first Big East regular-season title since sharing it in 2013.
Big Ten (15). The Boilermakers (10–1) are opening up distance on the rest of the league after being picked fifth and left unranked in the top 25. But even more surprising is the team currently in second, Northwestern. The Wildcats (6–3) were picked to finish 13th in the 14-team league. We'll see whether Chris Collins's team is still forwardly placed after a busy week with a rescheduled game at Iowa on Tuesday, home against Michigan on Thursday and then a trip to Wisconsin on Sunday.
SEC (16). Alabama (8–0) was picked to finish fifth. Preseason favorite Kentucky is currently tied for fifth, and predicted runner-up Arkansas is tied for ninth. Both of them need to avoid lapses in February to stay on the right side of the bubble, and their two games remaining against each other, Feb. 7 and March 4, should directly impact their tourney statuses. At the top of the heap, it would be surprising if the Tide aren't 11–0 in league play going into consecutive road games against Auburn and Tennessee Feb. 11 and 15. Texas A&M, tied for second at 7–1 after being picked sixth, has exceeded expectations to date.
Monitor Mania
In the latter stages of a game last Tuesday between North Carolina (17) and Syracuse (18), one recurring camera shot began to overtake the action: It was the backs of officials Roger Ayers, Lee Cassell and Brian O'Connell bent over a monitor at the scorer's table, studying replays. Five times, they went to the monitor to review. A tight and compelling game began to drag.
A couple of the calls demanded an extra look in a game where every possession mattered. But at least two of them were superfluous: A foul by RJ Davis on a driving Judah Mintz was an aggressive but clean play, and one out-of-bounds call was obviously off the Tar Heels. Still, they were pored over at length, delaying the proceedings.
Just to be clear, this was one of the better officiating crews in the sport. The Minutes would put Ayers very near the top of all college basketball refs, and Cassell has proved himself in big games as well. But the monitor can be addictive.
Reliance on the monitor is similar to our society's reliance on our cell phones—for numbers we used to memorize and directions we used to know by rote. The technology is available, so we fall back on it just to be sure. While getting calls right in close games is obviously of high importance, the fear here is that we are heading toward a February and March of endless replay reviews. A lot of exciting games will end in laborious fashion (19).
But for those involved in the games, the delays will be worth it to reach the fairest outcome.
"As tough as they are to sit through for the fan at the game or the viewer, they are absolutely necessary for not only the two teams playing to have it right, but also for the grading and advancement of the referees in their conferences and certainly to be able to get in the NCAA tournament and advance," said ESPN analyst and former coach Tom Crean (20). "They aren't going anywhere.
"There is no doubt they could be somewhat shorter, but unlike football, you aren't always getting as many angles in as many games. The review centers are crucial to this process, and that's why your head of officials and experienced people being in there are vitally important."
The most controversial reviews center on flagrant fouls (21). The rules committee understandably wants to safeguard against shots to the head by heat-seeking elbows, but the process is veering toward excessive regulation. Non-malicious high elbows are part of the game, and one player intruding upon another's personal space runs the risk of colliding with one. Players have become aware of the officiating hyper-vigilance, and the dramatics from some in response to any contact (or near contact) above the shoulders rivals the flopping seen in soccer.
There were two instances on the same night last week of contact to the head or neck. One was not deemed a flagrant foul (correctly, in The Minutes' view) and one that was called flagrant (and decided the outcome of a game).
The first was in the Virginia Tech–Duke (22) game. The Hokies' MJ Collins hit a pull-up jumper to put his team ahead by two with 13 seconds to play and in celebration pumped his fist as he turned to run downcourt. That fist collided with the throat of Duke big man Kyle Filipowski. The crew of Keith Kimble, Kipp Kissinger and Terry Oglesby did not rule it a flagrant foul, nor should they have—this was the equivalent of two people rounding a corner at the same time and bumping into each other, with one getting coffee spilled on them. Unfortunate, for sure, but not a flagrant foul. Calling it would have been an unnecessary intrusion that could've altered the outcome of the game.
Which is pretty much what happened later that same night in Reno, during a great Nevada–New Mexico (23) game. With the score tied in the final seconds of double overtime, Lobos big man Morris Udeze tracked down a rebound (amid considerable contact) and was swarmed by two Nevada players. Udeze appeared to be fouled at least once, maybe twice, without a call, then swung his left forearm into the face of guard Daniel Foster—who did his part to embellish the contact, dropping to the floor as if struck by a lightning bolt.
Still, the game was on the verge of playing out without a review—until Richard Pitino called a timeout to set up New Mexico's final play. That sent the refs to the monitor, and they called a flagrant on Udeze. Nevada made three free throws afterward to win the game. Pitino bit his tongue postgame but was howling mad on the court immediately after the call.
The Minutes inquired with the NCAA last week regarding monitor reviews, in hopes of learning whether anyone keeps track of how many there are and whether they are increasing. Questions were referred to Chris Rastatter, the NCAA's new national coordinator of men's basketball officials. He did not respond to an interview request. Accountability and transparency remain hard to come by in the college basketball officiating world.
Big 12 beating up on itself—and on the SEC
Saturday's Big 12–SEC Challenge (24) tilted pretty heavily in favor of the Big 12, further solidifying that conference's status as the best in the nation. Heading into Monday's games, the league has six in the top 20 and seven in the top 40 of the NCAA's NET ratings. The Big 12 also has nine of its 10 members in the Ken Pomeroy top 40, and six in the top 20. For the second straight season, Pomeroy rates the Big 12 far ahead of all other leagues.
The Big 12–SEC scoreboard was 7–3, with TCU's overtime loss at Mississippi State heavily impacted by an injury to star guard Mike Miles Jr. (25) early in that game. He played just four scoreless minutes. Oklahoma and West Virginia, tied for eighth in the Big 12, picked up résumé-enhancing wins in the challenge over SEC leader Alabama and fourth-place Auburn, respectively. Kansas ended a stumbling stretch by winning at Kentucky, a game in which the Jayhawks led for the entire final 29 minutes and 17 seconds.
In addition to the SEC wins, the Big 12 has put plenty of other nonconference skins on the wall: Texas beat Gonzaga and Creighton; Iowa State beat North Carolina; Kansas defeated Duke, North Carolina State, Wisconsin, Missouri and Indiana; TCU beat Iowa and Providence; Baylor defeated UCLA and Gonzaga; West Virginia took down Pittsburgh, Florida and UAB; and Oklahoma beat Seton Hall and Florida.
The only two Big 12 teams that don't have much merit for an NCAA tournament bid thus far are Oklahoma State (26) and Texas Tech (27). But there are fresh opportunities for quality wins twice a week in this league.
The question now is whether the Big 12 will bludgeon itself out of contention for a No. 1 NCAA tournament seed. Both Kansas (28) and Baylor (29)—the last two national champions—have had three-game losing streaks in league play that set them back. Texas (30), the other reasonable contender for the top seed line, comes out of a loss at Tennessee to face a rigorous three-game stretch that starts Monday night: Baylor at home, then Kansas State and Kansas on the road. K-State could factor in the No. 1 seed race as well if it wins the league, but doesn't have the nonconference résumé of the others.
Seeding does matter—both the Jayhawks and Bears were No. 1 seeds when they won the title—but there are multiple paths to the Final Four. Texas Tech got there in 2019 as a No. 3 seed, for example. It stands to reason that any Big 12 team that gets in the field is going to be a tough out.
Only one conference has an active streak of having a team in four straight Final Fours, and it's the Big 12. Given the broad-based depth of the league, The Minutes expects it to make it five straight come April. The rest of the nation is still trying to catch these guys.
February bubble stress
There is still a considerable amount of time for teams to play their way into or out of the NCAA tournament. The Minutes examines a few teams that head into February on the bubble—either happy to be in that position or appalled.
The fallen SEC favorites (31). That would be Kentucky (No. 36 in the NET, No. 34 Pomeroy) and Arkansas (No. 28 and No. 21), currently relegated to the SEC's sprawling middle class. Both of them need to avoid lapses in February to stay on the right side of the bubble. Their two games remaining against each other, Feb. 7 in Lexington and March 4 in Fayetteville, should directly impact their tourney status. Kentucky's résumé rests entirely on one great win, at Tennessee, but that's counterbalanced by a home loss to South Carolina that counts as a Quad 4 defeat in the NCAA NET rankings. Arkansas fans have enjoyed this highly anticipated season about as much as chewing glass, with the absence for the last 10 games by touted freshman and likely top-five draft pick Nick Smith Jr. ("knee management") topping the complaint list.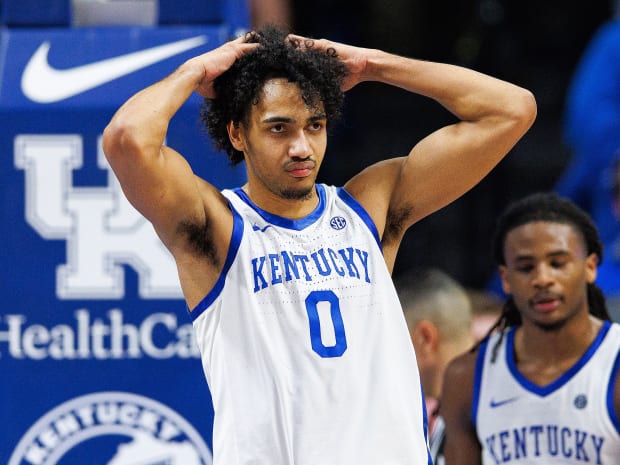 A wide swath of the Big Ten (32). If there is one league to watch for bubble drama over the next five weeks, this is it. As many as six teams are loitering just inside or outside the bracket, and thus are advised to take care of business to avoid bubble trouble. On the happy side, Northwestern (No. 40 NET, No. 43 Pomeroy) is pushing for its first bid since 2017 (and just its second in school history); Penn State (No. 52, No. 40) is trying to make the field for the first time since '11; and Maryland (No. 38, No. 32) is bouncing back after a glum transition season under interim coach Danny Manning.
Less happy: Ohio State (No. 29, No. 27) has lost seven of eight, including games against league lightweights Minnesota and Nebraska; Wisconsin (No. 74, No. 70) has lost six out of seven; and Iowa (No. 35 in both) is still trying to win enough games to make everyone forget an incomprehensible loss to 7–16 Eastern Illinois. All these teams have either four or five remaining games against the rest of the six. The Buckeyes might have the most advantageous slate of those games, with four of them at home and one on the road—but at 3–7 in the league they might have the furthest to climb to get in the tournament.
Arizona State (33). A four-game losing streak has torpedoed the momentum from a 15–3 start, exposing the Sun Devils' shooting deficiencies. Being swept at Washington and Washington State over the weekend was particularly damaging. The next six games offer a bounce-back opportunity, with Oregon State, Oregon, Colorado and Utah coming to Tempe and a Bay Area trip to face California and Stanford. But even if ASU (No. 64 NET, No. 65 Pomeroy) gets on a roll during that stretch, chances for its first NCAA bid since 2019 won't be clarified until a closing gantlet of road games against Arizona, UCLA and USC.
Pittsburgh (34). The Panthers are one of the better bounce-back stories in the mess that is the ACC, standing at 15–7 overall and 8–3 in the league while striving for their first NCAA bid since 2016. They have several good wins, but also a glaring home loss to Florida State. Befitting a bubble team, six of their ACC games have been decided by three points or fewer (Pitt is 5–1 in those games). It'll likely need to win a few more close ones over the next month.
Temple (35). The Owls have a chaotic résumé, with a statement win at Houston plus other quality victories over Rutgers, Cincinnati and VCU. They also have losses to Wagner, Richmond, Penn, Mississippi and Maryland–Eastern Shore. If Temple can pull off the season sweep of Houston next Sunday and avoid more bad losses, it will at least be in the discussion for the school's first bid since 2019.
Roster of the week
In the ever-changing world of college hoops, how teams are built has become increasingly interesting. Each week The Minutes will look at the roster for a team that is winning to see how it came together. This week: College of Charleston (36).
Coach Pat Kelsey is a mix-and-match specialist, grabbing players from a variety of disparate backgrounds and melding them into a team. His second Charleston team, 21–2 and leading the Colonial Athletic Association, is quite the mashup.
The leading scorer is 24-year-old Dalton Bolon, now in his seventh season of college basketball. He was a Division II walk-on at West Liberty in his home state of Ohio, where he played one season with an eye patch after a significant eye injury. After five years, he transferred to Charleston, was injured after just three games last season, then came back and in lucky season No. 7 is averaging 13 points per game.
Bolon isn't the only D-II transfer on the roster. Croatian big man Ante Brzovic arrived via Southeastern Oklahoma State, providing both a three-point threat and some size inside defensively.
There also is a player from even further down the competitive ladder: Jaylon Scott, from NAIA Bethel in Kansas. He's a defensive specialist who is second on the team in minutes per game.
Throw in a couple of players from the Australian Institute of Sport, one from the NBA Academy Africa and a juco product—plus a couple more traditional transfers—and somehow Kelsey has created a team that could earn an at-large bid from one of the weaker conferences. Charleston has had just one NCAA appearance this century.
Coach who earned his comp car this week
Dusty May (37), Florida Atlantic. The former Bob Knight manager from the tail end of his era at Indiana should be getting consideration for National Coach of the Year awards. He's led the Owls to a 21–1 record and the longest active winning streak in the country at 20. The Owls are a well-rounded, confident team that beat Florida in November and are 3–0 against their primary competition in Conference USA, North Texas and UAB. How impressive is May? He has five winning seasons in five years at FAU, which before his arrival had seven straight losing seasons.
Coach who should take the bus to work
Greg Gard (38), Wisconsin. His Badgers just concluded a 2–6 January, in which they averaged 59.3 points. Once a model of offensive efficiency, Wisconsin now struggles to score inside the arc (326th nationally in two-point field goal percentage) and at the foul line (321st in free throw accuracy). Athletic director Scott McIntosh showed during football season that he's not opposed to upsetting the status quo in terms of coaches from within the family, and the former Bo Ryan assistant hasn't seen the NCAA tourney Sweet 16 since 2017.
Buzzer beater
When hungry and thirsty in the excellent SEC town of Knoxville, The Minutes has a couple of strong recommendations. First, brunch at Southern Grit (39), where the Penny McGill biscuit might be the best thing ever invented (hash brown casserole, sausage gravy, eggs over easy). For drinks, hit the Knox Brew Hub (40) and enjoy a Toppy Rock IPA from Abridged Beer Company. Thank The Minutes later.