What do you call the thing that counts down as a pitcher delivers?
"Pitch clock," says Astros third baseman Alex Bregman.
"Pitch clock," says Cardinals reliever Jordan Hicks.
"Pitch clock," says Nationals manager Davey Martinez.
"Pitch timer," says MLB executive vice president Morgan Sword.
Wait, what?
Yes, the most controversial of MLB's rules changes for 2023—an attempt to improve pace of play by eliminating dead time between pitches—is going well, with largely positive reviews from players and league officials. Spring training games last year averaged three hours and one minute; that figure, through March 21, is two hours and 36 minutes. The new system seems to be working. There's just one problem: Players and league officials can't agree on what to call it.
"I don't know where 'pitch clock' came from," Sword says. "It's always been 'pitch timer.'"
This is not entirely correct. The first mention of such a device seems to have come in 1965, when—who else?—then-White Sox owner Bill Veeck suggested a contraption that would behave thus: "When the hand hit the 20‐second mark, it would actuate a siren that was guaranteed to knock the pitcher's hat off and startle the boys in the downtown pool hall." He called it the Pitchometer and griped that he had developed it during his first stint owning the team, before he sold the club to focus on his health, and the new owners had ignored it.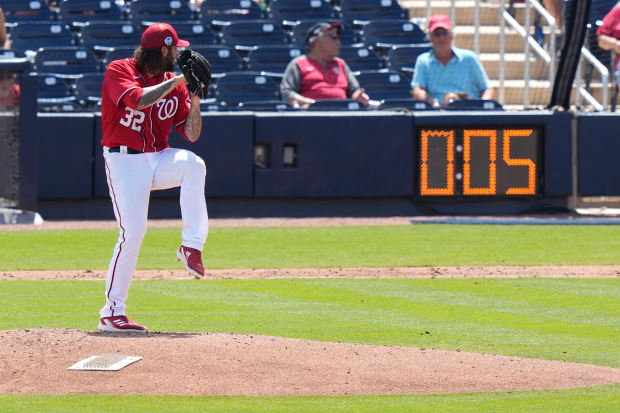 "It still sits there in the depths of Comiskey Park, complete with siren, like a leashed tiger, unheard, unseen," Veeck wrote in The Hustler's Handbook. (He reacquired the team in 1975 but does not seem to have unleashed it.)
The next attempt came some three decades ago, when a few college conferences took to the idea—minus the siren—and some independent leagues joined them. (The Northern League did give an "obnoxious horn" a try, according to the Chicago Sun-Times.) All referred to the new device as a pitch clock. So did the candidates for commissioner when they assembled to decide who would succeed Bud Selig in 2014, according to the Associated Press.
But by the time the league began implementing the new rules this spring—larger bases, a ban on defensive shifts and limitations on pitchers' throws to first, in addition to the timing mechanism—it was referring to it as a pitch timer.
Pitch clock would seem the obvious terminology, given that basketball has already given us a shot clock and football a play clock. The thinking, Sword explained, is it's a little more complicated than a simple clock, because the requirements change—15 seconds for the pitcher with the bases empty and 20 seconds with runners on; eight seconds for the batter.
Perhaps the public-relations specialists at the league also like the romance of the idea that there is no clock in baseball; instead there is a timer.
Among the people subscribing to that theory is no less than commissioner Rob Manfred, who despite their pleas calls it a pitch clock. "I always have," he said. "I know that a lot of the guys who were actually deep into it call it a pitch timer. I've always called it a pitch clock." He laughed and added, "I think that might be spin. I'm not sure."
MLB as a whole is trying to enforce the language, though; reporters for MLB.com, the media outlet owned by the league, recently received an email reminding them to use "pitch timer." Most of them do.
The league has had less luck with its other employees, the players.
"I don't like 'pitch timer,'" Cardinals reliever Packy Naughton says. "It feels weird. It doesn't sound right. Doesn't flow off the tongue."
"No, that's not a thing," said Astros outfielder Mauricio Dubon.
"If MLB wants it, let's not do that," said Astros outfielder Jake Meyers with a laugh. "Be rebellious!"
Indeed, more of them call it "shot clock" or "play clock" than "pitch timer." Asked for other ideas, Astros center fielder Chas McCormick laughed and said, "Rush."
Things are going no better in Spanish—players use reloj instead of MLB's preferred cronómentro.
Perhaps MLB can take hope from the story of the injured list, which was called the disabled list until the 2019 season. Players persisted in calling it the DL for a while but have mostly shifted to IL. But injured list makes more sense than disabled list. Pitch timer makes no more sense than pitch clock. So the fight continues.
"It's a clock," said Marlins center fielder Jazz Chisholm. "I've never said timer in my life. I'm calling it the clock." He does say IL, he said, but, "I'll never switch [to timer]." He added, "Clock got more drip."
Maybe that's the best way to look at this: Which term helps MLB achieve its stated objective of appealing to younger fans?
"'Timer' is two syllables!" said Nationals reliever Sean Doolittle. "We don't have time for that!"