It's often been said that NBA players are creatures of habit, and for Kings rookie forward Keegan Murray, truer words have never been spoken.
Murray is sometimes comically reluctant to break from his routines, and it's become a common theme for his teammates to tease him about his unwillingness to try new types of food.
"I've still never said yes when they ask me to try sushi," he told me with a smile. "I eat Caesar salad, but any other type of salad is a no-go for me. And they tried to get me to try some fish … halibut, I think? I tried like a tiny piece, because I didn't even know what that was."
Fortunately for the third-place Kings, though, Murray has been open to experimenting with his game a bit more than with his diet. And his success in doing so has been a key part of why Sacramento has come out of nowhere to have the most efficient offense in NBA history.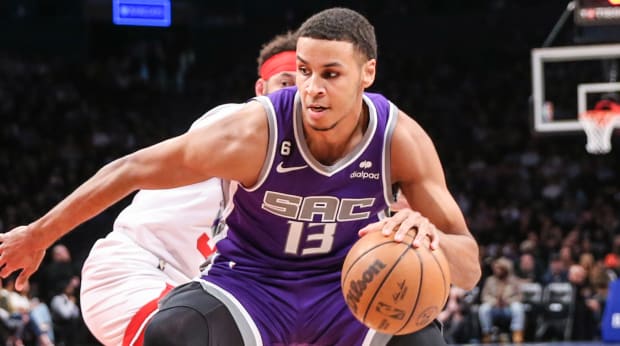 Specifically, Murray's starting role within the club's uber-efficient handoff attack has been a game changer. Questions and criticisms, including from this publication, were abundant in the immediate aftermath of the Kings' choice to deal away budding star Tyrese Haliburton last year for All-Star Domantas Sabonis. But in the time since, Sacramento has built a vast portion of its offense around Sabonis's ability to facilitate flow through having wing players—Murray and sharpshooter Kevin Huerter—run directly off the shoulder of the big man. It serves as an airtight screen that opposing defenders can't get around quickly enough, and it results in open shot after open shot, essentially making the attack unstoppable at times; particularly once the Kings begin using counters by mixing what those dribble handoffs look like from one play to the next.
"There are just so many layers to what we do out of those handoffs. It makes us a really tough offense to stop," says Huerter, who's posting career-best numbers this season in the attack.
Murray has been otherworldly on those handoff looks, too. Among the 18 players who've gotten at least 100 handoff possessions this season, the rookie has the second-highest effective field-goal rate (61.9%) in the entire league, putting him right in front of Stephen Curry, the greatest shooter of all-time, and just behind Huerter's blistering 63.7% mark. Tellingly, Kings star guard De'Aaron Fox ranks fifth at 57.7%, putting three Sacramento wing players in the top five of the category and illustrating Sabonis's incredible screening ability. That skill is undoubtedly why the Kings have utilized 751 handoffs—a whopping 113 more than the next-closest team. They're essentially daring defenses to stop them, because no one's shown that they can yet.
Perhaps the scariest thing about all this? The 22-year-old Murray is just getting his feet wet. For how much he might show a reluctance to try new things, the handoffs are almost entirely brand new to him as a basketball player. During the two seasons he starred at Iowa prior to becoming a pro, Murray had just nine possessions—five as a sophomore, and four as a freshman—in which he took a handoff from a teammate, according to Synergy Sports.
"I know I have a long way to go in my development, but because it's something I've never done before with the handoffs, I feel like I'm just scratching the surface of what I can be," Murray says. "Every month I feel like I'm getting better, and that's been a goal of mine."
The development has gone beyond just the addition of Murray's handoff game. He's improved and become a more perceptive defender since initial struggles there to begin the season. And beyond being a dead-eye shooter offensively—he's at 40.4% from deep on more than six attempts per game—he's showcasing a bit more ballhandling ability lately.
Shortly after the All-Star break, coach Mike Brown said he told Murray he, and the team in general, would benefit from him working on his ballhandling. "Every time you dribble the ball, as soon as you've taken two dribbles, you pick it up and you look to pass the ball to Domas or to Foxy," Brown, the frontrunner for the Coach of the Year award, recalled telling him. "Dribble the ball! And if you can go coast to coast and dunk on somebody or go make a play, do it!"
Days later, Murray crossed over Portland's Keon Johnson with a nifty dribble behind his back before finishing the move with a stepback and beautiful midrange splash. Then, one day after uncorking that move, Murray pulled down a rebound in Los Angeles, saw no Clippers standing in front of him and went coast to coast and threw down a thunderous two-handed jam. The freedom with which he's playing lately has shown up on the stat sheet, as Murray—averaging 11 points per game—has gone for 15, 22 and 19 points in his last three.
The willingness to go outside his comfort zone—particularly in the aftermath of his coach telling the sometimes-reluctant rookie to let loose more often—has been absolutely massive for the Kings. And it could pay enormous dividends with the playoffs right around the corner.