As part of a committee interviewing coaching candidates in the spring of 2022, University of Chicago men's soccer captain Richard Gillespie wasn't allowed to share any information with his teammates about the prospects. But that didn't stop them from asking, and when they did, all of the questions sounded the same: 'What's he like?'
But Gillespie couldn't say a word—or correct his teammates' questions—since it would have given the best candidate away. Because soon enough, Julianne Sitch would become one of just two women coaching a men's soccer team in NCAA Division III, and less than eight months later, she would make history as the first woman to coach an NCAA men's soccer team, in any division, to a national championship.
The significance of this accomplishment cannot be overstated, even though Sitch herself may say otherwise. The former Red Stars defender and assistant coach came to UChicago for one purpose—and it wasn't to make history.
"I came into a position to coach. … It was never about any of this other stuff," Sitch says. When asked about the title, she deflects any praise to her players: "It's about them. We wouldn't be here if it wasn't for them."
Not only did UChicago men's soccer win its first national championship in program history in Sitch's first season, but the title also put the finishing touches on the program's first undefeated season at 22-0-1. Who was the one draw against? None other than Kim Wyant's NYU, in what was reported to be the first matchup in NCAA men's soccer history between two women coaches.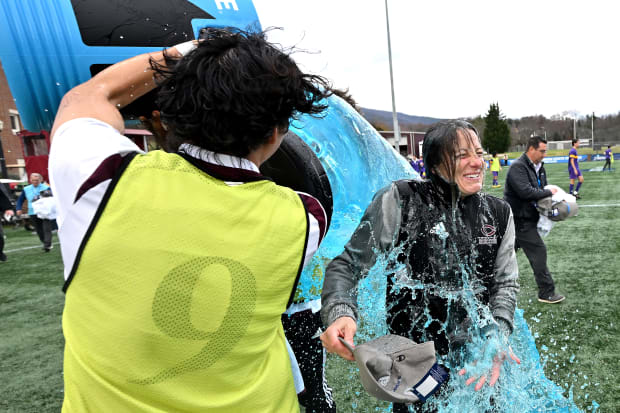 According to the Department of Education's Equity in Athletics data published in 2021, there were no women head coaches in men's football, soccer, baseball or basketball across 1,000 NCAA institutions surveyed in '20–21. Meanwhile, more than half of women's teams were coached by men. (In women's soccer specifically, 66% of head coaches were men.)
"For so long, just the cultural side of it was, men coach men and women coach women—but men also coach women—but there was never that crossover," says Michelle Lomnicki, general manager of the NWSL's Chicago Red Stars, where she played with Sitch in 2013.
It all started when Sitch was interviewing for the role, talking to campus leaders along with Gillespie and co-captain Griffin Wada. Expectations were high for a program that had reached the Final Four three times in the previous four years (not including 2020, when the season was canceled), but Sitch set the bar higher, arriving with a steadfast plan to clinch UChicago's first national title: "I remember telling someone, Yeah, she's gonna be the one to beat," says Angie Torain, UChicago's director of athletics and recreation.
"She was the best candidate we could have asked for," adds Gillespie.
In Sitch's first in-person introduction to the team, which happened just 12 hours before the first practice, she presented the "championship mindset" to them, something that would soon become customary in all 30 players' vocabulary.
"When we first met her, she kind of pitched that to us," says second-year midfielder Lyndon Hu. "You're not just chasing this end goal for the sake of the end goal. Every single day, you have the desire to push yourself to your max and get better. And then through winning every single day, winning every single moment, that puts you in a position to win the end goal."
And it worked. The team was on board, buying into Sitch's plan from the start. Lomnicki was "in tears," she says, when Sitch told her former teammate how much the players embraced her. They wanted the best coach, and Sitch was the best person for the job. It was obvious that she was going to help them win, Hu says.
"Any notion of it being different, I guess, went away," Hu says. "[It's] not different in what we want, which is to win. … We could tell right away. She had a plan, she had an identity, she had a culture that she wanted to build."
Twenty-three unbeaten games later, the team was splashing blue Powerade over Sitch to celebrate a 2–0 national championship win against Williams College behind goals from Robbie Pino and Ryan Shea. Back in Chicago, the Maroons dressed up in suits—appropriately paired with championship baseball caps—to meet the university's president.
For Sitch, this was the biggest moment of the season: watching her team of "superheroes" (as the coaching staff calls players for juggling academics and soccer) be celebrated for what they had accomplished that fall. But for those watching her and the team from afar, it was much more than that.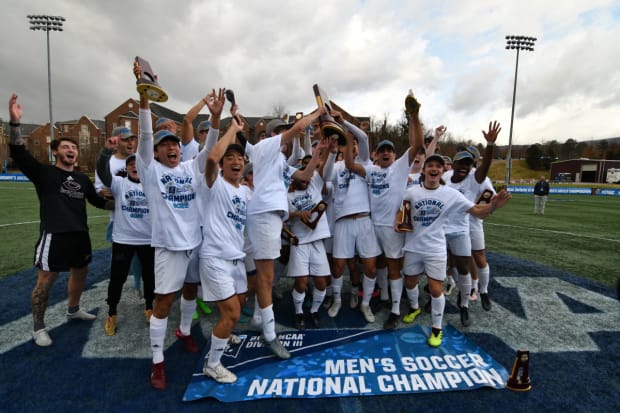 Gillespie traveled with Sitch to Philadelphia for the United Soccer Coaches Convention the month after the Maroons won the title. (Sitch and her staff received the 2022 National Coaching Staff of the Year award for Division III men's soccer, and Gillespie earned a first-team All-American award.) While there, he noticed young women, both coaches and players, come up to Sitch and, essentially, "fangirl." As much as she may want to highlight other aspects of the Maroons' season, the impact of Sitch's coaching career cannot be ignored.
"You look at all the young girls that even just look up to professional women athletes, and they can see someone in that [coaching] role," Lomnicki says. "There is more of a possibility for women to grasp that and know that that's attainable."