Free agency is almost in the rearview mirror, and now we're in Phoenix for the NFL's annual league meeting. Here are a few takeaways on what I'm hearing …
There's a sneaky team involved in the draft-quarterback derby. And that team is the Titans. GM Ran Carthon was on hand for the three big quarterback pro days last week in Columbus, Tuscaloosa and Lexington, and Mike Vrabel was there for two of the three (he was at the University of Cincinnati's Pro Day in between Ohio State and Kentucky, rather than going to Alabama).
Want more evidence? Ohio State quarterback C.J. Stroud took four private meetings on and around his pro day in Columbus. He had dinner with the Panthers' outsized crew of executives and coaches, and also met privately with the Raiders, Seahawks and … yup, the Titans.
What does it mean? It could mean nothing, but Tennessee's late-season swoon has it in striking distance to land one of the presumed top four quarterbacks in the class—with the 11th pick—and it's not out of the question that one could wind up landing in the lap of Vrabel and Carthon. Also, if you're someone who believes that Kentucky's Will Levis or Florida's Anthony Richardson needs a year to develop, Tennessee has Ryan Tannehill and can afford to redshirt a QB.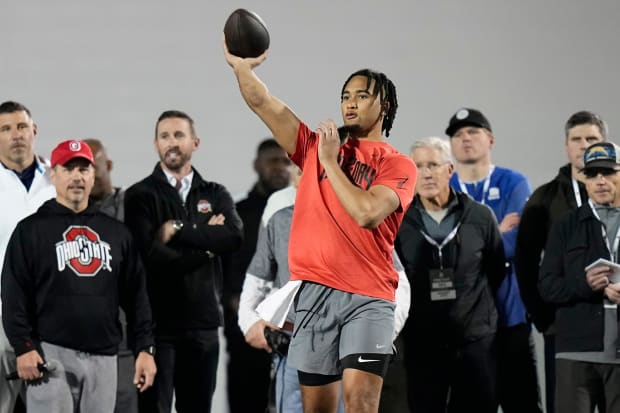 And after this year, Tannehill's contract expires, so the Titans would be fully ready to turn the page.
I'd say it makes sense for the Titans to turn over every rock in looking at these guys and finding out whether one is worth going all in to move up and draft. There could be a golden opportunity right in front of those guys. Good for them for trying to figure it out.
---
The Panthers' traveling party does have one more stop on its quarterbacking tour, and that'll happen with owners David and Nicole Tepper leading a group from Phoenix to Gainesvlle on Wednesday. I'd expect, like they did for the other three pro days, for the Teppers, GM Scott Fitterer, coach Frank Reich, and the rest of them to have dinner with Richardson on Wednesday night ahead of his throwing session Friday at UF.
And, honestly, I think this is part of the benefit you get in doing the deal to move up early if you're the Panthers. There's no hiding your intentions. You just send everyone and get everyone's opinion on each of the quarterbacks—with the Teppers bringing a different perspective to the conversation than, say, Fitterer or Reich would.
This is a massive decision for the franchise, the kind where a GM and coach get their job security tethered to the fortunes of a single player. So this, in my mind, is how it should look. All hands on deck.
While we're here, I would say the consensus I've gotten from teams, and guys who were on the ground at the pro days, is it looks like Young and Stroud are, for now, on one tier, with Levis and Richardson, who don't have the tape that the other two do and need more work mechanically.
"In my opinion, it's a real tough choice between Bryce and C.J.," says one coach who was at all three pro days. "They're both outstanding. If you're concerned about size, C.J.'s probably a safer pick? And Will looked fine, [but] I think he's a notch or two below the others. … The other two are more natural throwers and have put better stuff on tape."
"Stroud's personality came out more interacting with his teammates, and his natural arm strength was tremendous," says another coach. "Young's performance was as good as it gets, and he's such a natural in front of everyone. His accuracy, anticipation, along with throwing catchable balls, as good as it gets."
---
The receiver market is stagnant. We covered this early last week, but heading into the owners meetings, Denver GM George Paton and Arizona GM Monti Ossenfort are in interesting positions, with receivers to sell in a pass-happy, receiver-hungry league. And maybe, again, everyone being in one place. Here's my feel for where each situation stands …
• Sean Payton's always been confident in his own ability to make it work at the skill positions, and, with a dearth of draft picks this year (none until No. 67) and next (one in the first two rounds), it makes sense that the Broncos would shop receivers, the one position where Denver has sellable commodities and a surplus of players. And that, really, is where the Broncos have been on Jerry Jeudy and Courtland Sutton. They'll do it, if someone is willing to give back some of their high-end picks.
• The Cardinals' initial ask, to get a second-rounder and another asset for Hopkins, seems to have fallen flat, and there are teams waiting to see the price come down in the wake of the Brandin Cooks trade. To try to facilitate something, I'm told Arizona has granted teams permission to talk to Hopkins and his agents. But the combination of his age, injury history and friction with the teams he's played for has made him a tougher sell than I think the Cardinals anticipated. One way, creatively, they could improve the giveback from another would be to pick up part of Hopkins's $19.45 million base salary for this year before trading him.
And after that, we're probably looking at the draft for receiver talent. Obviously, this has been what we saw last year with Tyreek Hill, Davante Adams and A.J. Brown.
---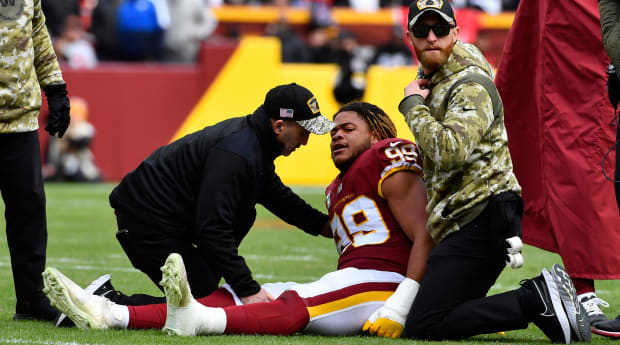 If I were a team looking to make a splashy move before or at the draft, I think I'd call the Commanders right now. All you have to do is look at their defensive line group. Jonathan Allen signed a four-year, $72 million extension last year. Daron Payne did a four-year, $90 million deal a couple of weeks ago. Montez Sweat has 29 career sacks and will play on his fifth-year option, presumably, this fall, and the Commanders have a decision to make on Chase Young's fifth-year option in May.
Now, to be clear, the Commanders haven't shopped Young or Sweat, to my knowledge.
But it'd seem if you're another team, it's at least worth having a discussion with Ron Rivera, Martin Mayhew and Marty Hurney about whether one of those players would be available, given that it might be hard for the franchise to keep all four. Then again, with jobs on the line and new ownership coming in, it might be best just to stand pat and see where those guys can take you in 2023.
---
The Patriots' coaching staff is starting to shake out, and the roles look more defined than they did a year ago. And whether it was Bill Belichick (more likely) or Robert Kraft (who has plenty of experience setting up organizations) prompting it, I see it as a good thing that there will be far less gray area than there was a year ago.
This year, Bill O'Brien will run the offense, Jerod Mayo and Steve Belichick will run the defense, and Joe Judge will oversee the special teams and serve in an assistant head coach role. The hope, I'd say, would be that Bill Belichick, at 71, won't be stretched thin nearly to the degree he was a year ago, when the Patriots looked like, to put it politely, a mess, even to some of the folks on the staff. Which, on paper, should allow him to do more to make sure the Patriots are still capable of winning on the margins.
Now, if they could only get a top-end receiver and tackle … (Interestingly, they had scouting chief Matt Groh, OL coach Adrian Klemm and WR coach Ross Douglas in Columbus last week to check out and meet privately with Ohio State's Jaxon Smith-Njigba and Paris Johnson, both of whom could be in play at 14).
---
Tom Brady's buy-in to the Las Vegas Aces is interesting. There are scores of examples of people such as Brady who have used buying a minority interest in a team at some level of sports—Peyton Manning's wife, Ashley, did it with the Memphis Grizzlies years ago—as a toe-in-the-water experiment with thoughts of doing something bigger eventually. We also have Brady's flirtation with the Dolphins last year as evidence that he's had such thoughts.
So I'd say that, for the time being, it feels to me like that something bigger would have to be a couple of years away. He told people with the Buccaneers in the fall that he was planning to take a year off after retirement to study broadcasting, ahead of actually getting in the booth with Fox Sports, and to spend more time with his kids (with the divorce making some of that, of course, a little more complicated in his needing to be with them at certain times). I don't think any of those plans have changed and I don't think he'd be in a rush to dive in with a team yet.
Could he come back and play again, and could it be with the Raiders, given that he's now partners in a WNBA ownership? I'd never say never on that, because of Brady's addiction to competition, because of Jimmy Garoppolo's injury history, because of Brady's ties to the Raiders' staff and because asking him to come play for a couple of months is different than trying to get a year commitment from him. But I'd believe him when he intimates that, as of right now, that's not in the plans at all.
Which means I think what you see with Brady, again, for now, is what you get.
---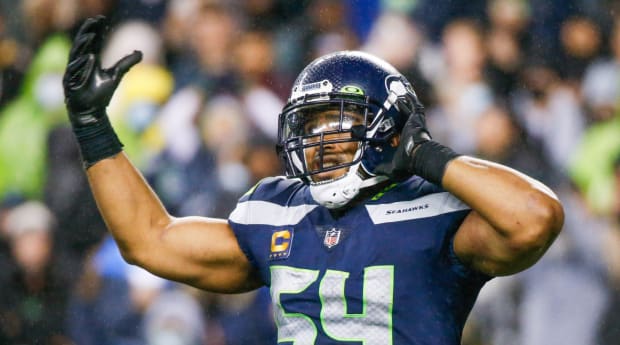 The Seahawks' reunion with Bobby Wagner is a great example of how player-team relationships can ebb and flow. A year ago Seattle cut the nine-time All-Pro, with the sides unable to come to an amended contract, and he was off to the Seahawks' division rival in Los Angeles. Now, he's coming back on a one-year, $7 million deal.
How'd that all work, where a guy who wouldn't take less from his team is more than willing to a year later? It's pretty simple, actually, and pretty relatable, too. Imagine you'd given everything you had to a company for a decade, and it came to you looking for a pay cut. Given all that you'd given the company over that time, it might hurt and, at the very least, you might feel emasculated in doing it. You might even think to go to another company, regardless of the price, and show your old company they messed up.
But after a year, maybe things didn't go exactly as you expected them to, and, with another chance to return, and the context of a return being much different than just accepting a pay cut, you'd probably be enticed to go back to a place so comfortable, too.
At least, that's the way I'd see it.
---
Something that may interest only me—all five teams with new coaches are starting their offseason programs a week later than they're allowed. If the Colts, Panthers, Cardinals, Broncos and Texans saw fit, they could all get going as soon as April 3, a week from Monday. Instead, all of them begin their nine-week programs the following week, right after the Easter holiday.
Just something that got my attention, because I know how much thought coaches put into these things, and something I'll ask around on the next few days (since it just popped in my head).