Forty names, games, teams and minutiae making news in college football (purloined Turnover Tridents sold separately in San Marcos, Texas):
First Quarter: Trash-Talkin' Coaches
Second Quarter: Will the Heisman race move off the West Coast?
One-third of the way through the regular season, early returns suggest the Heisman Trophy could stay out West for a second straight year. Four or five strong contenders reside in the Pac-12 Conference, including the reigning winner. The Pac-12 hasn't had consecutive Heisman winners since 2004–05, and that's if you want to acknowledge Reggie Bush's since-rescinded award. But the league is loaded now, so let's start The Dash's first look at the Heisman race with the Pac-12's pack of quarterbacks (11).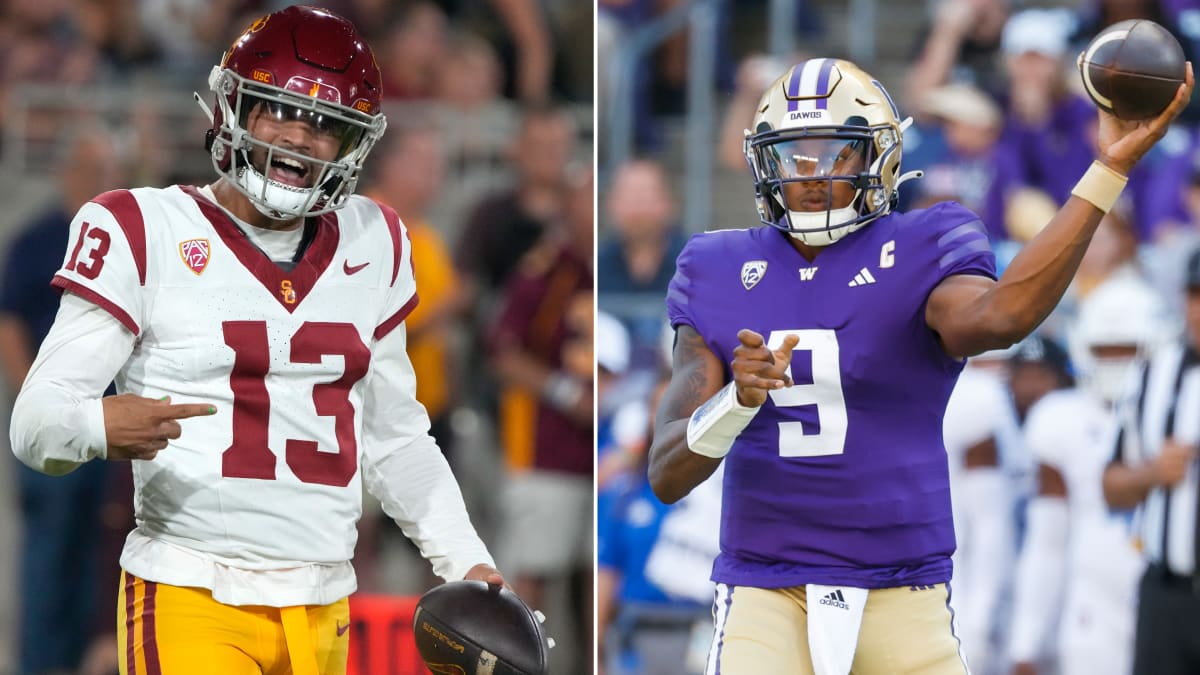 Caleb Williams, USC. Won it last year and leads the nation in pass efficiency this year by a wide margin. His 223.07 rating is more than 13 points ahead of the next guy on this list. Williams has yet to throw an interception, has more than 275 yards passing in every game and has posted double figures in yards per attempt every game. Oh, and the Trojans lead the nation in scoring at 55 points per game. The competition has been soft, but so far he's outperforming his own standard set last season. Last USC Heisman winner: Williams in 2022.
Michael Penix Jr., Washington. He is the orchestrator of the nation's splashiest splash-play offense. Penix's 32 completions of 20 yards or longer is six more than anyone else in the nation, and his 18 completions of 30 yards or longer is five ahead of his closest pursuers. If you dig the long ball, check out the Huskies. Penix leads the nation in passing yards by more than 250. He figures to be in this race for the long haul. Last Washington Heisman winner: never.
Cameron Ward, Washington State. He arrived on The Palouse last year as a touted transfer from the FCS level, and it was an uneven adjustment season. Now Ward is fully adjusted and lighting it up, with the help of some new receivers. Nobody has thrown more passes this season without an interception than Ward (141), and he's been an effective runner as well. He's second to Penix nationally in total offense (374.5 yards per game). It's hard to win a Heisman from a place like Pullman, but as long as the undefeated Cougars keep winning Ward should stay in the conversation. Last Washington State Heisman winner: never.
Bo Nix, Oregon. The Ducks had to replace offensive coordinator Kenny Dillingham, who became the head coach at Arizona State, and let's just say the transition to Will Stein has been just fine for Nix. Oregon is second nationally in scoring at 54 points per game, and Nix is clicking along at a career-best 180.53 pass efficiency rating. With the Oregon hype machine behind him and "Bo-Dacious" billboards proliferating, the campaign is well underway. "We've got the best quarterback in the nation," Oregon coach Dan Lanning said after the Ducks dismantled Colorado. "I know that. I see that." Last Oregon Heisman winner: Marcus Mariota in 2014.
Shedeur Sanders, Colorado. His candidacy hit a wall in Eugene on Saturday, but don't write off Sanders just yet. If he rebounds with a big performance against Williams and USC in Boulder on Saturday, he'll get back in the mix. The problem for Sanders is a lack of a Colorado running game, which leads to an unbridled pass rush beating him up (he had 73 yards in sacks against Oregon). Sanders has proven his poise and toughness in leading the Buffaloes to a 3–1 start. Last Colorado Heisman winner: Rashaan Salaam in 1994.
Contenders outside the Pac-12:
Jordan Travis (12), Florida State. He's the leader of the team that has proven the most so far this season, with huge wins over LSU and Clemson away from home. The sixth-year QB is in full command of an attack that has been aided by the arrival of Michigan State transfer Keon Coleman (tied for the national lead with six touchdown catches). As long as the Seminoles stay undefeated and Travis stays healthy, he will be involved in the discussion. Last Florida State Heisman winner: Jameis Winston in 2013.
Winning Red River quarterback (13). Neither the Longhorns nor the Sooners can overlook Red River preludes this week (Texas vs. Kansas, Oklahoma vs. Iowa State). But if they take care of business and arrive in Dallas undefeated it will be an intriguing quarterback matchup between Quinn Ewers and Dillon Gabriel. Ewers has the bigger victory to date, with Texas's win at Alabama; Gabriel has the better numbers (fifth nationally in efficiency). This will be a high-profile springboard for one or both QBs. Last Texas Heisman winner: Ricky Williams in 1998. Last Oklahoma Heisman winner: Kyler Murray in 2018.
Jayden Daniels (14), LSU. He's taken his game up another notch this season. Daniels is eighth nationally in efficiency and third in total offense, having run for 193 yards and thrown for 1,296. He lost the head-to-head battle with Travis in the season opener, but that's on the LSU defensive backs more than on Daniels. The Tigers have plenty of high-profile opportunities ahead on the schedule to showcase Daniels. Last LSU Heisman winner: Joe Burrow in 2019.
Sam Hartman (15), Notre Dame. He's been outstanding since arriving from Wake Forest, ranking third nationally in efficiency behind only Williams and Penix. Failing to convert two fourth-and-one runs against Ohio State showed his limitations on the ground, but Hartman gave the Fighting Irish a chance to win the game with clutch touchdown drives of 75 and 96 yards in the second half. Hartman will face off with Williams in South Bend in a few weeks. Last Notre Dame Heisman winner: Tim Brown in 1987.
Tyler Van Dyke (16), Miami. He's back and better than ever. Van Dyke was a tantalizing prospect in 2021, flailed through the coaching change like the rest of the Hurricanes in '22, and now is red hot in '23 under new offensive coordinator Shannon Dawson. In Miami's lone high-profile game this year, Van Dyke shredded Texas A&M for 374 yards and five touchdowns. Given what A&M has done defensively against everyone else it has faced, that performance has only grown in stature. Last Miami Heisman winner: Gino Torretta in 1992.
Drake Maye (17), North Carolina. A preseason Heisman front-runner, Maye's numbers have been pretty pedestrian so far—he's sixth in the Atlantic Coast Conference alone in efficiency, with five touchdown passes and four interceptions. But he's also run for three touchdowns, and the Tar Heels are undefeated against a respectable early schedule. The next two games will set Maye's course: Syracuse on Oct. 7 and at Miami on Oct. 14. Last UNC Heisman winner: never.
Blake Corum/TreVeyon Henderson (18). The quarterbacks have been fine at Michigan and Ohio State, but not outstanding in a crowded national picture at that position. Buckeyes stud receiver Marvin Harrison Jr., has 50 total receiving yards in two games against power-conference competition. So what about the running backs? Corum is tied for the national lead in rushing touchdowns with eight and has 198 yards on the ground the past two games. Henderson has been very good—especially on a 61-yard touchdown run against Notre Dame—without getting the ball much. As those teams progress through the season, they might be the two who make their respective offenses move. Last Michigan Heisman winner: Charles Woodson in 1997. Last Ohio State Heisman winner: Troy Smith in 2006.
Star of the surprise unbeaten (19). Also known as the Max Duggan Precedent. Could be Duke quarterback Riley Leonard. Could be Louisville running back Jawhar Jordan. Could be Missouri receiver Luther Burden. Could be Kansas quarterback Jalon Daniels. Could be Kentucky quarterback Devin Leary. Could be Syracuse quarterback Garrett Shrader. Could be Maryland quarterback Taulia Tagovailoa. If their teams keep winning games, their stars will continue to rise.
Pick a Penn State or Georgia player (20). The Nittany Lions are good at everything. They're also a statistical scatter plot of parity and depth. They have the nation's No. 1 defense, but it's happening by committee. Their best player might be offensive tackle Olu Fashanu; try creating a Heisman campaign around that. Last Penn State Heisman winner: John Cappelletti in 1973.
Same goes for the two-time champion Bulldogs. They have tight end Brock Bowers, who had his best game of 2023 on Saturday against UAB (nine catches, 121 yards, two touchdowns) and a ton of other very good players who are largely indistinguishable statistically. Georgia also hasn't played a schedule that has commanded attention yet. Last Georgia Heisman winner: Herschel Walker in 1982.
First Quarter: Trash-Talkin' Coaches