Billy King, the former Nets and 76ers GM, the man who endured the Dwightmare and a very public (failed) attempt to trade for Carmelo Anthony, understands the chaos of the trade deadline and the pressure to make—or not make—a deal. In 2001 the Sixers were atop the Eastern Conference standings. But Theo Ratliff had recently broken his wrist, and Philadelphia had a hole in the middle. So King sent Ratliff and Toni Kukoč to Atlanta in a six-player deal that brought Dikembe Mutombo to Philly. The result: The 76ers advanced to the Finals for the first time in nearly two decades.
"When you're bad it's easy to make a deal," says King. "When you're good the risk is so much greater."
With the NBA seeing unprecedented parity in the standings this year, many teams believe they are good. Championship good. The top five teams in the Eastern Conference are separated by six games. In the West, the fourth-seeded Clippers are just 3.5 games ahead of 12th-place Portland. A good week can position a team for home court advantage. A bad one could push them out of the playoffs.
With Thursday's deadline looming, Sports Illustrated created tiers for some of the teams we are closely watching.
The Need to Make a Deal Tier
Memphis Grizzlies
Skinny: Why would a team comfortably entrenched in the No. 2 spot need to make a deal? Because they are. Despite recent struggles—Memphis has dropped eight of its last 10—the Grizz are good. Really good. They own the NBA's best defense, attack the rim relentlessly and batter opponents on the offensive glass. But they are hovering near the bottom third in three-point shooting and are middle of the pack defending it. That's not necessarily a playoff death sentence—Boston was an average three-point shooting team last season and that didn't stop its march to the Finals—but it's an area of weakness that could be shored up.
The Grizz could argue that they are shoring it up with Danny Green, who returned to active duty last week after missing the first half of the season recovering from knee surgery. On paper Green is exactly what this team needs: a defensive-minded, three-point shooting veteran with championship experience. But less than a year removed from tearing his ACL, it's risky to believe Green can be that player, at least this season.
Memphis GM Zach Kleiman has been protective of his assets, and rightfully so. The Grizz are where they are in part because of shrewd dealing and a solid track record in the draft. But Memphis is, or at least should be, a title contender. They have a dynamic star in Ja Morant. They have an elite defender in Jaren Jackson Jr. They have enough playoff experience not to shrink in the moment. If there was ever a time to go all in, it's now.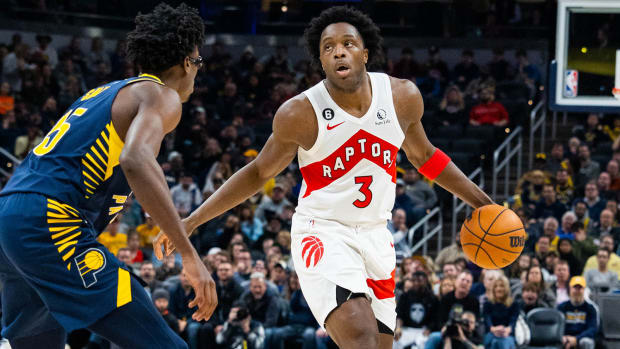 Who they should target: OG Anunoby
Why not? Anunoby is one of the big fish in this year's trade market. Executives who have spoken to Toronto say the Raptors are looking for a Donovan Mitchell–level package for Anunoby—and are under no pressure to trade him at all. Memphis has the draft capital to get Toronto's attention (seven picks over the next two years, including three in the first round and all of its first-round picks beyond that), and a contract (Green) and young talent (Ziaire Williams, Santi Aldama) to make it interesting. Anunoby would help the Grizzlies now—he's a mid-30s three-point shooter who defends everybody—and, at 25 with a year left on his contract, fits the timeline for Memphis's future. It'd be a bold move, but a worthy one for a franchise with a legitimate chance to win.
Utah Jazz
Skinny: The Jazz were a fun story, weren't they? The quirky sons of Will Hardy, the disciples of Danny Ainge, surprised everyone to start the season, sitting (briefly) atop the Western Conference standings and developing Lauri Markkenen into an All-Star. Whatever expectations were out there, Utah exceeded them.
But it's over. The Jazz are 10th in the conference and very much in the play-in mix. But what does it matter? Is a one-and-done play-in slot worth the assets a rebuilding team could pick up in a seller's market? Is being competitive-ish the rest of this season worth a shot at a franchise-altering talent to lead them for the next 20?
Short answer: No. Ainge should operate the next few days like an auctioneer at Sotheby's. He should strip this team of every player not in his long-term plans—and that list is very short—for as many draft picks as he can get back. The Jazz gave their fans some excitement early in the season. Now it's time to give them hope for the next one.
Who they should trade: Mike Conley, Jordan Clarkson, Malik Beasley, Kelly Olynyk
There have been some rumblings that the Lakers (more on them below) have interest in a Conley-headlined package and are willing to throw a future first-round pick in the pot to do it. Olynyk is a near 40% three-point shooter who can play either frontcourt position. Clarkson is a proven scorer who has adapted to a bench role. The Jazz have several players with first-round pick value if they play the market right.
Golden State Warriors
The theory that just getting to the playoffs healthy is enough for the Warriors is no longer a valid one. Golden State is hovering around .500 and in the bottom half of the playoff bracket with a road record (7–21) similar to that of Houston and San Antonio. Now Stephen Curry will be sidelined indefinitely with a leg injury.
The Warriors always knew they needed something. The bench—specifically its collection of budding young talent, has not produced. Jonathan Kuminga has had moments, but Moses Moody and James Wiseman have been largely nonfactors. A key to Golden State's success over the last decade has been contributions from its reserves, from Andre Iguodala to Otto Porter Jr. to Juan Toscano-Anderson to Gary Payton II. This year's team has been hugely reliant on young talent, and that talent has not consistently delivered. The Warriors' second unit ranks 27th in net rating, sandwiched between the lottery-bound Hornets and Rockets.
Who they should target: Alex Caruso
Caruso is exactly who Golden State needs. He's a two-way guard who will upgrade a bottom-third defense. His shooting (39% from three) will be useful in the Warriors' spacing offense. His salary—Caruso is owed $19 million over the next two seasons—is manageable. It's unclear how available Caruso is—the Bulls are in a state of limbo these days—and the Dubs wouldn't be the only team bidding for him. It could cost James Wiseman, which, for a former No. 2 pick, would be selling awfully low, but if Golden State wants to extend this team's title window, Caruso is the kind of piece that needs to be added to it.
The Really Should Make a Deal Tier
Denver Nuggets
Skinny: There's an argument to be made that the Nuggets are fine, that a team with a 4.5-game lead in the conference standings shouldn't shake things up. They have a two-time (and the favorite to be three-time) MVP in Nikola Jokić, a revived Jamal Murray and a healthy (for now) Michael Porter Jr. The starting lineup has a net rating (7.4) nearly two points better than the next team.
But the bench is suspect. The Nuggets' second unit has the NBA's second-worst net rating, a tick above the Spurs. Something weird is going on with Bones Hyland, Jeff Green has been inconsistent and DeAndre Jordan has been invisible. Meanwhile the defense is middle of the pack. Internally, the Nuggets have been exploring ways to acquire a versatile, 3-and-D wing, feeling that kind of player could be enough to put the team over the top.
Who they should target: Taurean Prince
Prince is a decent defender who consistently shoots in the high 30s from three-point range and is in the middle of the most efficient season of his career. He'd be a reliable bench player for a team in need of one. There's plenty of familiarity between Timberwolves president Tim Connelly and Nuggets GM Calvin Booth. Connelly drafted Hyland in Denver and may be interested in bringing him to Minnesota, a team also in need of a boost.
Los Angeles Lakers
Skinny: Overlooked in the celebration of LeBron James's new scoring record was that a healthy Lakers team lost to a middling Thunder team playing without its best defender (Lu Dort) and on the second night of a back-to-back. The Rui Hachimua trade was a legitimate upgrade, with Hachimura stabilizing the starting lineup with a steady scorer and reliable three-point shooter. But the Lakers' defense remains dreadfully bad—Oklahoma City scored 76 points in the first half Tuesday—with the kinds of problems even a healthy Anthony Davis can't fix.
L.A. doesn't have many compelling assets, and any deal involving Russell Westbrook will almost certainly include a first-round pick. And the Lakers want to be careful. There remains strong interest in signing Kyrie Irving this summer, a source familiar with the Lakers' thinking told SI, which means there is value to Los Angeles simply letting Westbrook's contract come off the books. Wasting an All-NBA level season from James, however, could be more dangerous.
Who they should target: Fred VanVleet, Gary Trent Jr.
Screw it—go all in. The Raptors will undoubtedly want both L.A.'s 2027 and '29 first-round picks in a deal (Westbrook would go to make the salaries match), but perhaps the Lakers can squeeze some high-lottery protections out of them. It's a risk—both VanVleet, 28, and Trent, 24, will be free agents this summer. But both can defend and shoot the three. And VanVleet has a title on his résumé. The Lakers whiffed once not making a deal with the Raptors; Kyle Lowry was nearly shipped to L.A. in 2020. If there's an opportunity to make another, they should jump at it.
Dallas Mavericks
Skinny: Wait … another deal? Yes, Dallas has already made the deadline's big deal, swapping Dorian Finney-Smith, Spencer Dinwiddie and draft capital for Irving. That trade should make the Mavs potent offensively … and laughably bad on defense, where Dallas's three best offensive players (Irving, Luka Dončić and Christian Wood) are average to below-average defenders.
Who they should target: Jae'Sean Tate
Several teams have kicked Houston's tires on Tate, a versatile defender on a team-friendly contract. Dallas doesn't have many compelling players to trade after the Irving deal but it does have a 2027 first-round pick. Is Tate worth it? The Mavs need someone to replace Finney-Smith, a role Tate seems suited for.
The You Wonder If They Will Make a Deal Tier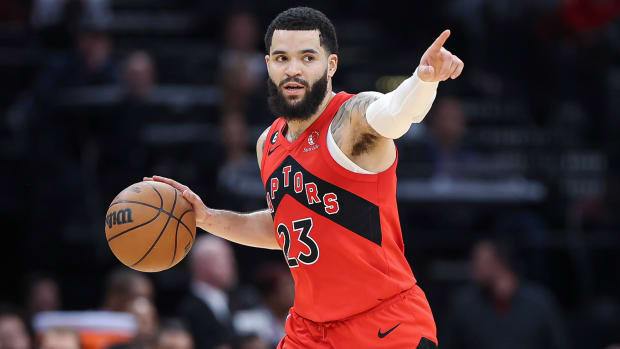 Toronto Raptors
Skinny: No one knows exactly what the Raptors are thinking. But the season has been underwhelming, and there are indications that Nick Nurse could be out at the end of the year. Toronto has several key players up for contracts and/or extensions in the next couple of years, and ownership likely isn't interested in spending into the luxury tax for a team that could be headed for the lottery.
Who they should trade: Fred VanVleet, Gary Trent Jr., OG Anunoby
The blow-it-up option feels the most viable. It's a seller's market, and the Raptors have some impact players. VanVleet and Trent are two-way players who can shoot. As is Anunoby, who is also under contract through next season. By going all in on a rebuild, Toronto could stockpile as many as five first-round picks in the next two days, giving a team with a strong reputation for drafting and player development the capital to build around Scottie Barnes in the future.
Miami Heat
Skinny: It's been a frustrating season in Miami, plagued by injuries, aging and a morbidly bad offense that ranks in the bottom five in the NBA in efficiency and three-point shooting. The Heat could offload Lowry, though his contract could be more valuable next summer when it is an expiring deal. They need some frontcourt help—Caleb Martin is the de facto power forward, and Udonis Haslem really, really shouldn't be playing meaningful NBA minutes anymore—and they will take any shooting. But Miami is limited with what it can send out.
Who they should trade: No one
It seems like next summer is when the Heat could take a big swing, with Lowry, Tyler Herro and a pick a package that could be dangled for an available star. The Heat don't have enough to win a title, but Jimmy Butler and Bam Adebayo in the playoffs won't be an easy out. And maybe Lowry, at 37, can rediscover some playoff magic.
Minnesota Timberwolves
Skinny: The T-Wolves are in that Western Conference cluster where you can wake up in fifth place and go to bed in ninth. But they have been playing better of late. Anthony Edwards should be an All-Star, and the defensive rating continues to climb. And Karl-Anthony Towns should finally return to the lineup after the All-Star break. The T-Wolves have been aggressive in trade talks and have D'Angelo Russell—and D'Angelo Russell's expiring contract—to dangle. But is there an impact player better than Russell, who shot 46% from three in January and has connected on 43% of his threes this month? That remains to be seen.
Who they should target: Bones Hyland
Timberwolves president Tim Connelly drafted Hyland, and Hyland has been itching for a bigger role. He could juice a sputtering offense (23rd in efficiency) and potentially pair with Edwards for years to come. Connelly has already gone all in on this roster with the Rudy Gobert deal. Seems only fitting to continue to add to it.