Make the most of cozy fall evenings with the perfect fire pit for your space
Whether you've been busy raking up leaves or commuting in the rain, there's no fall activity quite as relaxing as sitting around a fire pit. Humans have gathered around a fire for millennia, and today's fire pits make it easier than ever to start a fire, toast some marshmallows, and enjoy some conversation.
Set up a large freestanding fire pit in your backyard or place a compact tabletop model on your dining table and gather your loved ones to enjoy a beautiful fall evening together.
October Prime Day: Here are the best early deals
Shop this article: Solo Stove Bonfire 2.0, Sunnydaze 36-Inch Northland Outdoor Rectangular Fire Pit, Colsen Tabletop Indoor/Outdoor Firepit
Types of fire pits
Wood-burning fire pits
Wood is the most popular fuel for fire pits, and models can be found at all price points. Large fire bowls can be set up on the ground while smaller tabletop models can go just about anywhere. To safely and comfortably use a wood-burning fire pit, you'll want to have a fire poker and a spark screen on hand. The former keeps the fire burning effectively while the latter protects you and your guests from stray sparks.
Propane fire pits
If you've ever gotten cozy around a sleek fire table, it was probably fueled by propane. Propane generates a lot of heat and tanks are easy to acquire and install. However, propane-burning fire pits tend to be much larger in order to accommodate the tank, so they may not be suitable for smaller outdoor spaces. Gas fire pits also tend to be decorative, so stick to toasting marshmallows and save the cooking for a wood-burning fire pit.
Other fuel options
If your home has a natural gas line to the outside, you can hook up a natural gas fire pit for uninterrupted flames with the simple push of a button. Since these models are considered appliances, they can be installed closer to your house than wood-burning fire pits, but they usually require professional installation and can be very expensive if you need to run additional lengths of gas line.
Smaller, simpler and smokeless, some fire pits run on gel or liquid fuel, such as isopropyl alcohol, ethanol and bioethanol. These types of fuels are especially popular for tabletop fire pits since they're compact, don't generate smoke or sparks, and are easy to clean up.
Fire pit safety
The first step towards enjoying a night around the fire pit is to ensure it's actually OK to use it. With climate change causing widespread drought, your part of the country may restrict fire pit use to reduce the risk of wildfires. Some cities don't allow fire pits at all. Check with your county website or fire department to stay up-to-date on any restrictions.
How to use a fire pit
Anytime you're using a fire pit, keep a hose, a bucket of water, or a fire extinguisher close by. Not only can these help keep a fire from burning out of control, they can help douse any flames caused by stray sparks. If you want to avoid generating smoke or sparks altogether, opt for a fire pit that burns ethanol, bioethanol or propane.
No matter what kind of fuel you're burning, fire pits mean hot surfaces and open flames. Keep children and pets out of arm's reach of the fire pit to prevent burns. Always supervise your fire pit while it's in use and ensure the fire is fully extinguished before you call it a night.
When using a wood-burning fire pit, stop adding fuel about an hour before you plan to extinguish the fire. Once it's down to embers, fully extinguish the fire with water or sand.
Cooking over a fire pit
Not all fire pits or fuel types are safe to cook with. For example, trying to grill greasy burgers over a decorative propane fire pit can result in drippings and baked-on food. This isn't just unsightly: it's also a fire hazard. Check the product description if you want to use a fire pit to cook anything more elaborate than toasted marshmallows.
Fire pit maintenance
Along with being less smoky, clean-burning fuels, such as ethanol, also help make fire pit maintenance easy since there are no ashes to clean up. Most can be easily cleaned by wiping them down with a damp cloth.
To maintain a wood-burning fire pit, sweep out cold ashes into a metal container with a lid. If left in the fire pit, the acidic ashes can corrode the metal of the fire pit bowl and make it wear out faster. Protect your fire pit from the elements by using a cover that fits well and keeps it dry.
Everything you need to enjoy a fire pit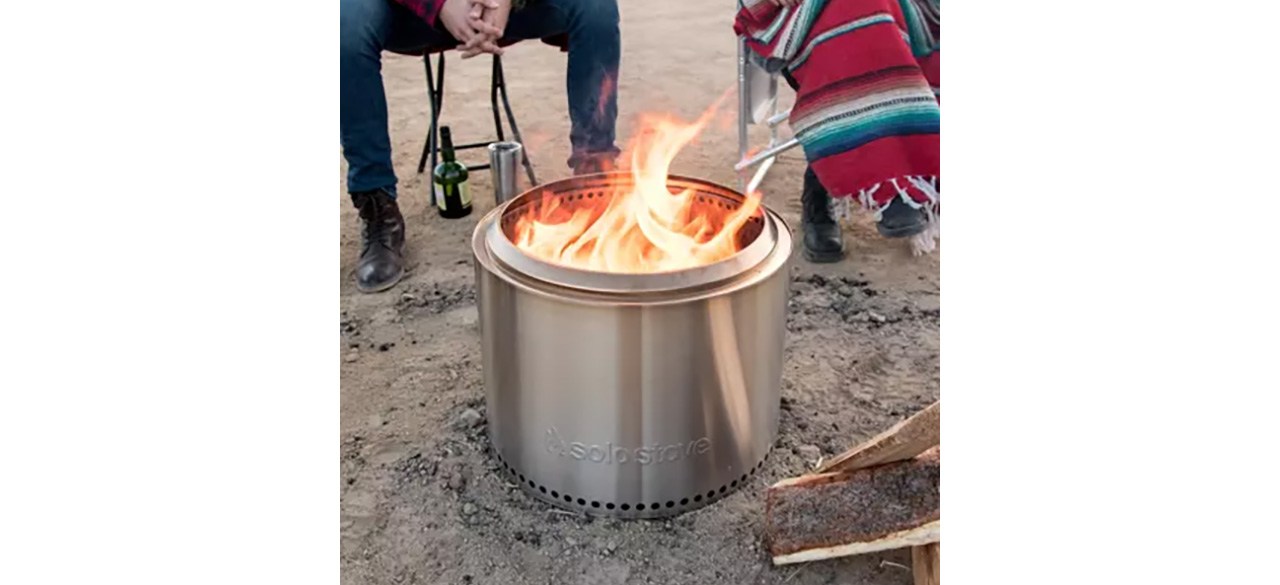 Our Testing Lab loved how this wood-burning fire pit generated almost zero smoke. With its sleek stainless steel design, easy setup, and simple cleanup thanks to its removable ash pan, this fire pit is a game-changer for backyard gatherings.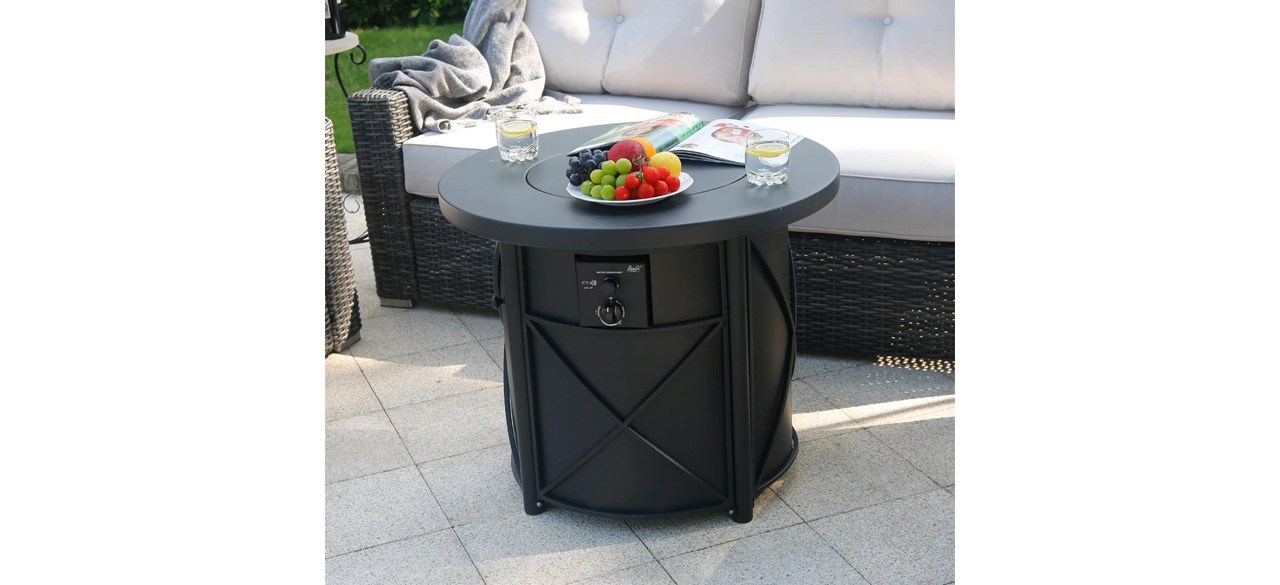 Bali Outdoors Propane Firepit Table
This elegant, barrel-shaped fire pit conceals a 20-pound propane tank and generates a toasty 50,000 British thermal units (Btu) of heat. Fill its upper portion with the included blue glass rocks, rest your drink on the ledge, and enjoy. The fire pit opening comes with a cover that transforms the surface into a table.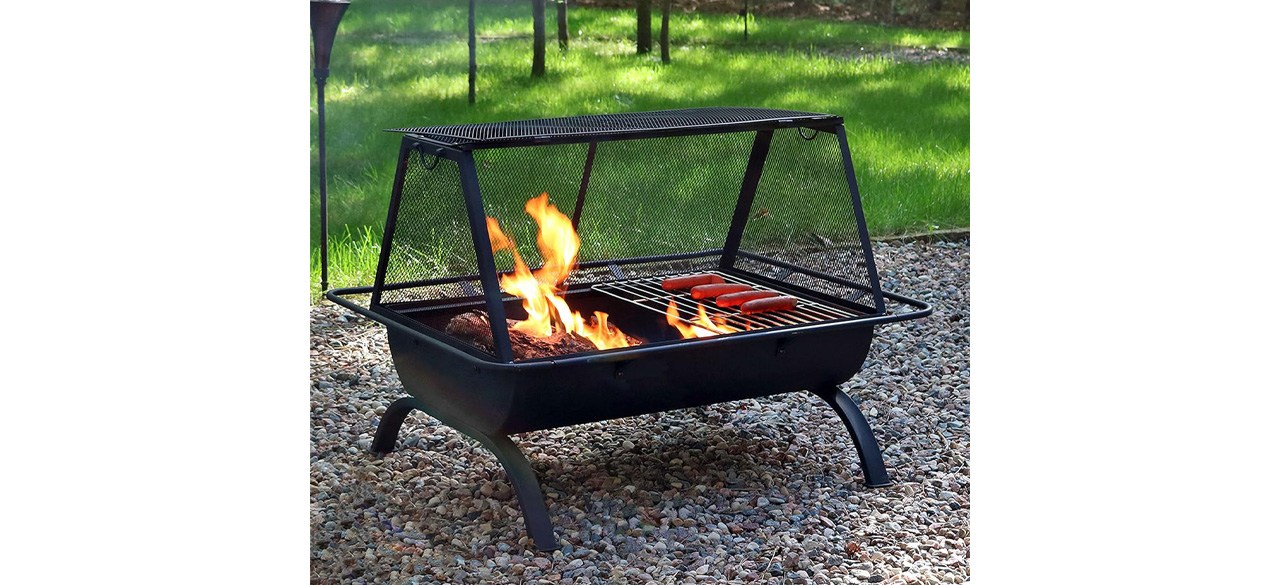 Sunnydaze 36-Inch Northland Outdoor Rectangular Fire Pit
Prepare a wood-grilled feast on this versatile fire pit, which comes with a stainless steel grilling grate for cooking. It also includes a spark screen with a hinged door and a fire poker for safety.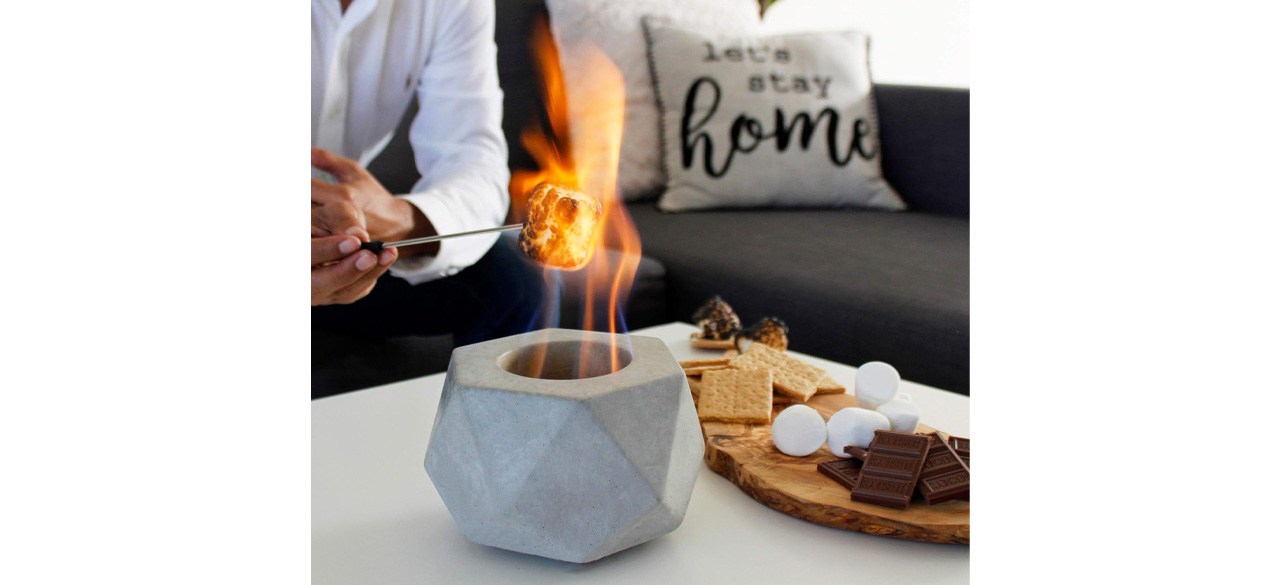 Colsen Tabletop Indoor/Outdoor Firepit
This petite concrete fire pit looks sharp on dining tables indoors or out. It burns smokeless, odorless ethanol for cozy flames that last up to 50 minutes at a time.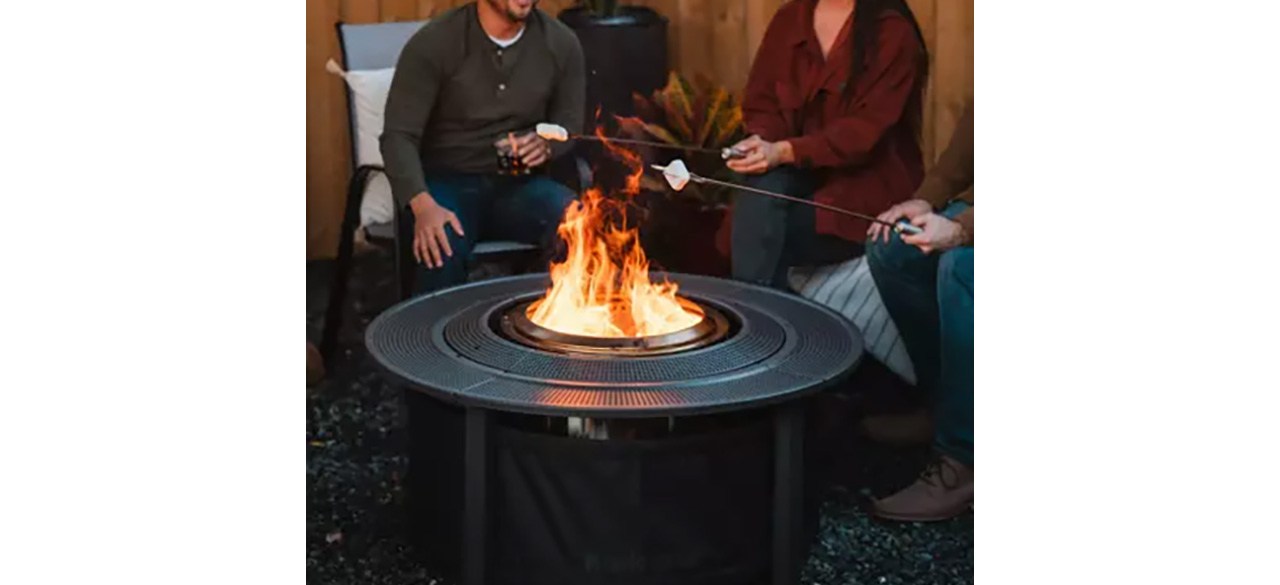 Designed to fit around your existing Solo Stove fire pit, the Surround offers a perforated tabletop to hold food and drink, as well as keep children and pets a safe distance from the heat. It's available in two sizes to accommodate all Solo Stoves.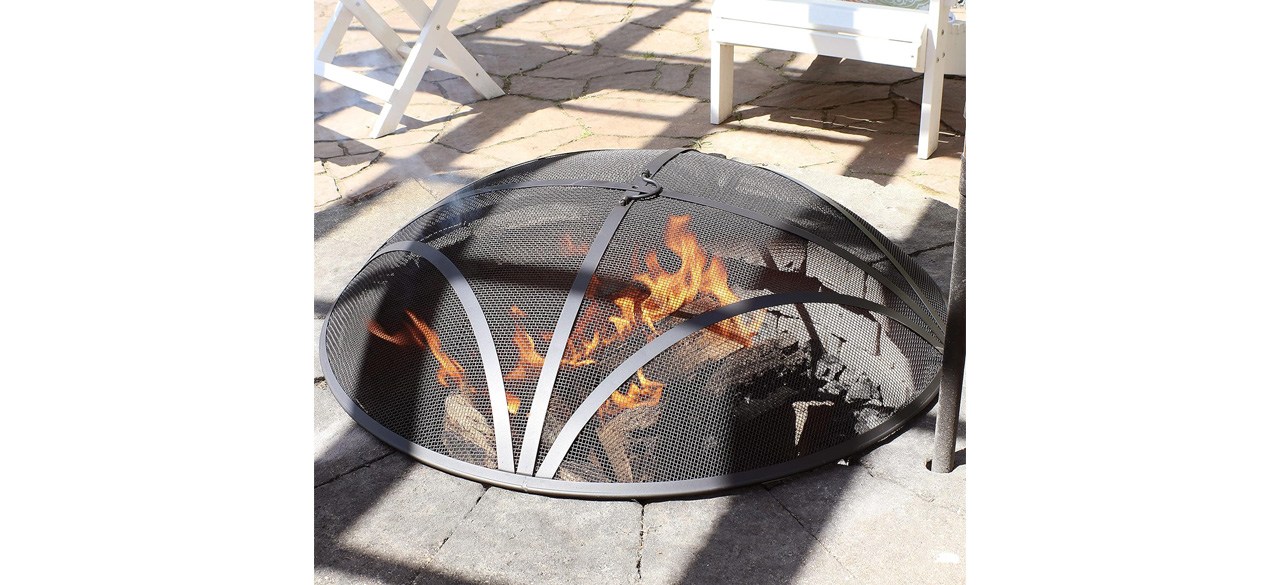 Sunnydaze Black Reinforced Steel Mesh Fire Pit Spark Screen
This spark screen is made from heavy-duty steel mesh, but it's still lightweight, with a ring handle that makes it easy to move. It's available in five sizes ranging from 22 inches in diameter to 40 inches.
Want to shop the best products at the best prices? Check out Daily Deals from BestReviews.
Sign up here to receive the BestReviews weekly newsletter for useful advice on new products and noteworthy deals.
Laura Reed writes for BestReviews. BestReviews has helped millions of consumers simplify their purchasing decisions, saving them time and money.
Copyright 2023 BestReviews, a Nexstar company. All rights reserved.