VIRGINIA BEACH, Va. (WAVY) — Community stages with free performances from dozens of local artists are arguably the biggest addition for Something in the Water as it returns to Virginia Beach this year.
They'll be at existing city venues at 17th and 24th streets (with more free music at 31st Street) through the festival weekend, just steps away from national acts like Wu-Tang Clan, SWV, Lil Wayne and Kid Cudi.
Anyone can walk up for free and enjoy the music or one of the many local vendors at the community stages — whether or not you've got a ticket to the main festival.
Something in the Water Executive Producer Robby Wells says it's all about shining a light on local talent as the festival moves back to its Virginia Beach roots. Its second rendition was in Washington, D.C. last year for Juneteenth weekend, after the inaugural festival at the beach back in 2019.
He says the festival's always looked to engage the broader community, but in the festival's inaugural year, that occurred in the form of panels and other more formal events at the Virginia Beach Convention Center.
This year, the community music stages will be front and center, bringing a "much more celebratory" vibe, Wells says.
"One of the easiest ways to do that is to focus our energy on how we stimulate the creative community, the musicians, the artists, etc. that are from here and give them a lane we haven't previously been able to give them in the past," Wells said.
Performers will include a plethora of Virginia Beach natives, including up-and-coming R&B singer Gee Litt (who's performing four times during the festival weekend), area reggaetón champion Nat, her friend Madelyn Startt (a local DJ and artist who'll perform at the "Area 75" stage at 17th Street on Friday at 5:15 p.m.) and a community fixture in rapper Intalek (who helped produced the unaffiliated "Something Indie Water" featuring 50 Virginia-based artists).
"To be able to say potentially that an artist played on one of these stages and had their trajectory shifted forever would be incredible," Wells said.
The local performers will be focused on the 17th and 24th stages, while the
31st Street Stage at Neptune's Park (from 4-9 p.m. daily) will exclusively have DJs spinning R&B
for the R&B Block Party, a touring group featuring DJ Greyl D, Izzy the DJ, DJ SK, and more that's performed at Norfolk Scope in the past. 
https://t.co/b8cKpP6P9I pic.twitter.com/RK08TLpYyi

— Bug Man (@GabeNiles) April 27, 2023
To bring all the 757 talent together, Wells reached out to someone with countless
local connections in producer/DJ Gabe Niles, aka "Bug Man," who helped program Pharrell Williams' Mighty Dream event in Norfolk back in November.
"[For Mighty Dream] we were able to tap into a considerable amount of local artists to make that event special, and in many ways, they stole the show," Wells said of the acts Niles brought together. 
Niles, 34, from Virginia Beach, has been in the local music scene for years. He grew up with hometown stars like the Neptunes and Timbaland, downloading instrumental beats he found off of Napster. 
He says this is a major opportunity for local artists who've been performing anywhere they can trying to cultivate the local music scene.
#SITW 🌊@GabeNiles talks about bringing local artists together for @sitw's free stages and what it means.

"Now we finally get to do whatever we want and have a budget behind it … this isn't a new thing for us, this is a great opportunity for us." https://t.co/dXsgDBC5DD pic.twitter.com/p5NjkGCS9W

— Brian Reese (@BrianReese_) April 24, 2023
"Now we finally get to do whatever we want and have a budget behind it," Niles said. "The whole team, all of us have been doing this out in this area forever. This is what we do."
He says he wanted to make sure there was a diverse range of acts, particularly at the 24th Street Stage.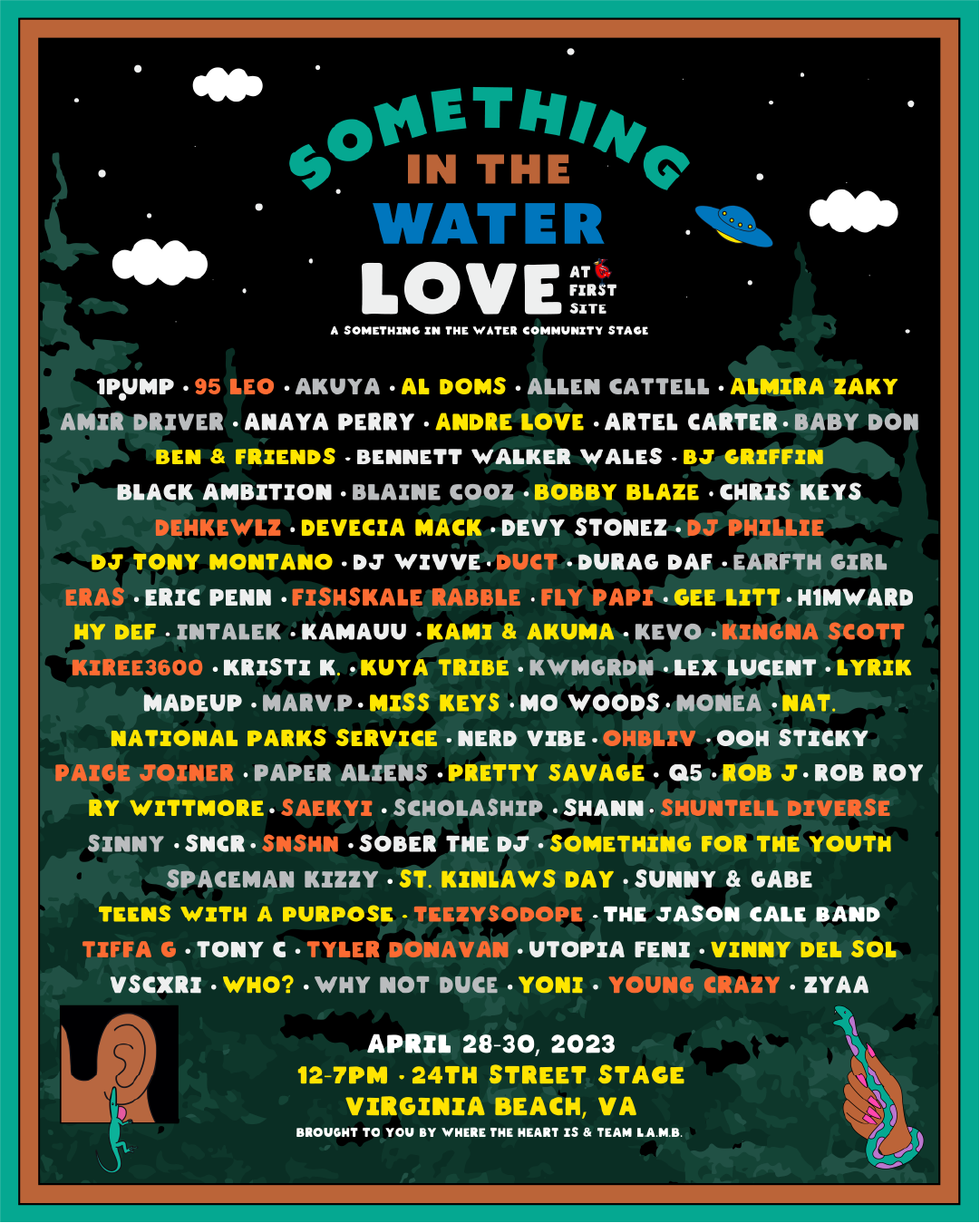 Dubbed "Love at First Sight," 24th Street will have a campground/cookout-type feel, with face painting, a talent show, and more in addition to the music. It's being held in coordination with Team LAMB Inc. (which stands for Tell Everyone Around Me Love All My Brothers), a clothing and mentorship brand that works in part to combat gun violence, and Where the Heart Is. 
"From the ska and the beach, hip-hop, rap, we've got a noise guy, we've got mimes … I don't wanna just like to tell you everything I want you to come out and discover," said a smiling Niles. 
"Just come out here, it's free, man."
Among those acts are Virginia Beach natives Madelyn Startt and Nat Ramos.
Ramos, who went to Landstown High and graduated from ODU, performs reggaetón, a
popular Latin American electronic music that originated in her mother's native
Panama. She performs mostly in Spanish, with some English sprinkled in.
Startt, 25, went to Salem High and has been DJing for more than three years.
She's excited to see other artists who've been around for a long time get their
shining moment, and thanked Niles for being the glue guy in bringing everyone together. 
"[Niles] has definitely been a person that's helped everyone grow, he's
just a reliable guy that everyone can just go to," Startt said.
"Gabe is everything," added a laughing Ramos.
Ramos will be at 24th Street, while Startt performs Friday at 5:15 p.m. at the 17th Street Street Stage, next to Dairy Queen and closest to the Something in the Water entrance.
That's being called "Area 75," a mashup of the region's venerated area code (757) and the extraterrestrial Area 51. It's all about the local DJs. 
"I heard some aliens crashed over there, they have the whole area roped off … them aliens like to dance over there, if you wanna go get a lil gyration and all that kind of squiggly stuff you can go over there," Niles said. 
Niles says he's also working with Team Lamb, who put on a Juneteenth event at the
Oceanfront last year, to potentially bring more events to the area in the future outside of Something in the Water weekend.
"Why can't we just do this all the time?"