CHESAPEAKE, Va. (WAVY) — The Girls Recognizing Our Worth (G.R.O.W) Foundation presents 'Bridge the Gap: A Community Conversation.'
Neisha Himes created the G.R.O.W foundation seven years ago, to help families live free of violence and educate the community about the barriers many people face in a toxic relationship.
On Saturday, a diverse group of panelists discussed domestic violence. The panel was made up of professional advocates; Special Crimes Detective Jennifer Baron, former Chesapeake Commonwealth
Attorney's domestic violence prosecutor Attorney Bridget Ambrosio, trauma therapist Jerrica Newsome , and USN Master Chief Michael Royster.
Survivors of abuse; Jennifer Elyse Mutchler-Babu, Michael Jasey and Himes shared powerful testimonies with an audience at Greenbrier Public Library.
"I speak as a survivor of domestic violence. I know what it's like to feel like your voice doesn't matter like you're not supposed to speak up. If you do, you won't be believed, and you'll be judged. So, I think it's important to create spaces like this where survivors are able to share their voice in a safe space," said Himes, G.R.O.W. CEO.
Himes organized Bridge the Gap: A Community Conversation with nine categories; including the criminal justice system, military, media, impacts on family, and mental health.
"We are coming together for a conversation to break the silence, to break those misconceptions and those stigmas," said Himes. "While domestic violence impacts us all. It doesn't matter the gender, the race, [or] the background. There are unique challenges that people of different demographics and populations face as it relates to getting out of that situation."
'Bridge the Gap: A Community Conversation' is part three of G.R.O.W foundations panel series, followed by 'Bridge the Gap: The Other Side of the Story' and 'Bridge the Gap: Meet Me in the Middle.'
10 On Your Side weekend anchor and reporter Kiahnna Patterson was invited as a guest moderator.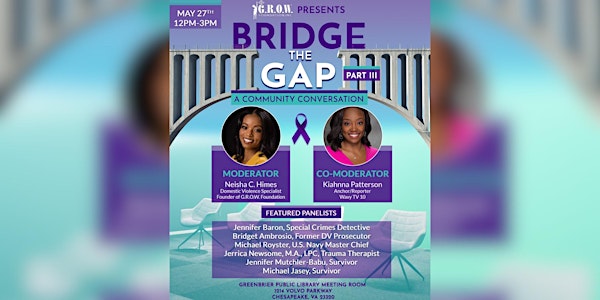 ---
If you or you know someone who may be a victim of domestic violence or child abuse, click here for a list of local and national resources.
Avalon Center in Williamsburg
Eastern Shore Coalition Against Domestic Violence
Samaritan House Inc. in Virginia Beach
H.E.R. Shelter in Portsmouth
The Genieve Shelter in Suffolk
Transitions Family Violence Services in Hampton
YWCA South Hampton Roads in Norfolk
National Human Trafficking Task Force Hotline: 1-888-3737-888.
Hampton Roads Human Trafficking Task Force: 757-430-2120
Blue Campaign to bring an end to Human Trafficking
Prevent Child Abuse America – Coronavirus Resources & Tips for Parents, Children & Others.
Child abuse and neglect are serious problems that can have lasting harmful effects on its victims. For more information on preventing child abuse and neglect check out resources from the CDC or call The Childhelp National Child Abuse Hotline at 1-800-422-4453 for help.