Wardrobe | 50 Years of Bond Fashion
Want style that's been shaken, yet not stirred for more than 50 years? Look no further than Bond, James Bond. Classically tailored, effortlessly worn and oozing with confidence, the wardrobe of secret agent 007 hasn't lost one bit of sexy, class or comfort through fads, fashions or changing actors.
Get the 007 look
The Day Suit:
Simple, classic lines, thin tie in subtle grays and blues, look confident and ready for action in a style I'd describe as slightly business casual. Modern flair from the 1960s that's rarely changed over the years – from Connery to Craig – breaks all barriers in its daring approach to the "suit."
The Dinner Jacket:
A slightly elevated and elegant style, Bond's white dinner jacket motif has rarely changed for more than 30 years. For a look of real distinction, this jacket is a great choice for dressier outings, and can easily be worn with jeans.
Roll the dice on your next date by daring to wear this classic Bond style.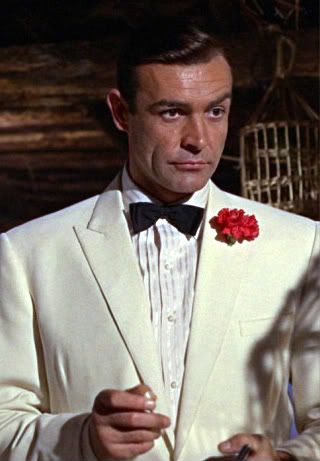 The Tux:
The Black Tux oozes James Bond. It's serious. It's not messing around. And it makes guys look like a million bucks, golden guns or not. This classic Bond look says coolly you've got the situation under control – even when you don't (also classic Bond).
Emulate the king of debonair dressed from head to toe in a Bond-style uniform. You can also go Craig style, and mix with modern-day elements, like jeans or casual slacks.
-----------------------------------------
Twinkle VanWinkle was born in a small town in Mississippi. A life-long lover of music, media and food, she grew up following those three things along her path. She has almost 20 years of professional cooking under her apron strings, feeding thousands of friends, family and other folks while working in restaurants and bakeries in Oxford, Miss. She baked 300 apple pies for the "Oprah Winfrey Show" and appeared on "The Best Of..." in the same year. Along with producing dynamic entertainment content for LIN Media, she is a mother, musician and social media fanatic.
Follow Twinkle on Foodspotting, Tumblr and Twitter.

Get your own Mini Editor from Polyvore
A man is facing attempted abduction charges after police said he tried to grab two juvenile girls and exposed himself.

A lawsuit has been filed on behalf of more than 2,000 EMTs and paramedics who were abruptly laid off over the weekend.

The Portsmouth City Council has set a public hearing for Tuesday, Dec. 17, to talk about a plan to bring a casino to the city.